Regular price
$18,151.00 USD
Regular price
Sale price
$18,151.00 USD
Unit price
per
Sale
Sold out
Share
All my work is of course a personal expression, however it's not often I get to paint something deeply meaningful for me, so here's the story of 'Starman'...


The idea came to me on David Bowie's birthday 2 years ago. I had such a clear vision for a new 'Wilderness of Kitsch' piece, my last being 'Lana Americana' from 2013 which featured the singer Lana Del Rey. I just had to find all the elements and recreate what I had in my mind within my photography studio. I staged a tableau using a combination of cardboard cut-outs and objects referencing Bowie's life and music. Many of them are obvious, from his lyrics etc, such as the dolphin from 'Heroes', although he did apparently have a tattoo that featured a dolphin on his leg. Some references are a bit more obscure; I'll leave it to the viewer to figure them all out!

So why is it so meaningful to me? Well, it stems from my psychosis during the bipolar mania I experienced in 2017. My love for Bowie came late, aside from Labyrinth being one of my favourite films as a kid, it wasn't really until 'The Next Day' album that I fell in love with his music. Since then, he's been a staple of my iTunes. During my mania, I believed listening to Bowie created a protective shield around me, vital given all the people I believed were after me, some trying to kill me. My mania took me on all sorts of escapades, but most exciting of all was that I believed I flew on an asteroid with Bowie through hyperspace...I genuinely felt we met, something that stayed with me, which is one nice thing to come from such a difficult time in my life. Of course that episode resulted in me being sectioned, and while in hospital I listened to Bowie endlessly, especially while doing my 10,000 steps everyday around the garden in a bid to get sane.

So the 6 weeks spent painting this has been a labour of love, especially as it also references work from my early career, including the 'laughing' gnome and Major Tom and his 'tin can' which I previously painted in 'Moon Landing' from 2003. And of course, the shooting star represents the asteroid where we hung out together, which was pretty far out, man!!
Original Oil on Canvas in a white wooden float frame.
Artwork Size - 120 x 80 cm
Framed Size - 123.5 x 83.5 cm
Free Delivery to mainland England - please
Contact Us
for a quote for delivery elsewhere.
View full details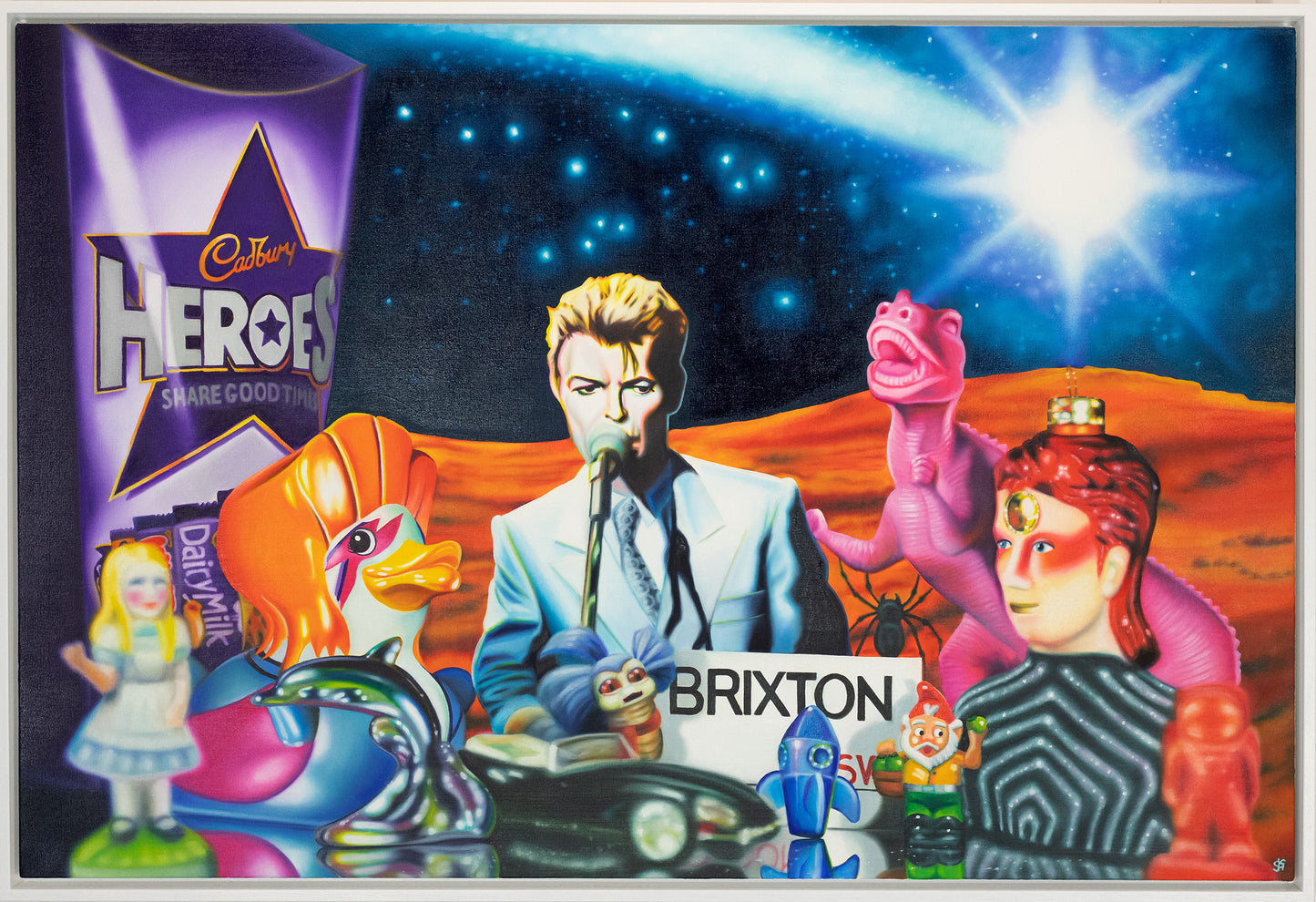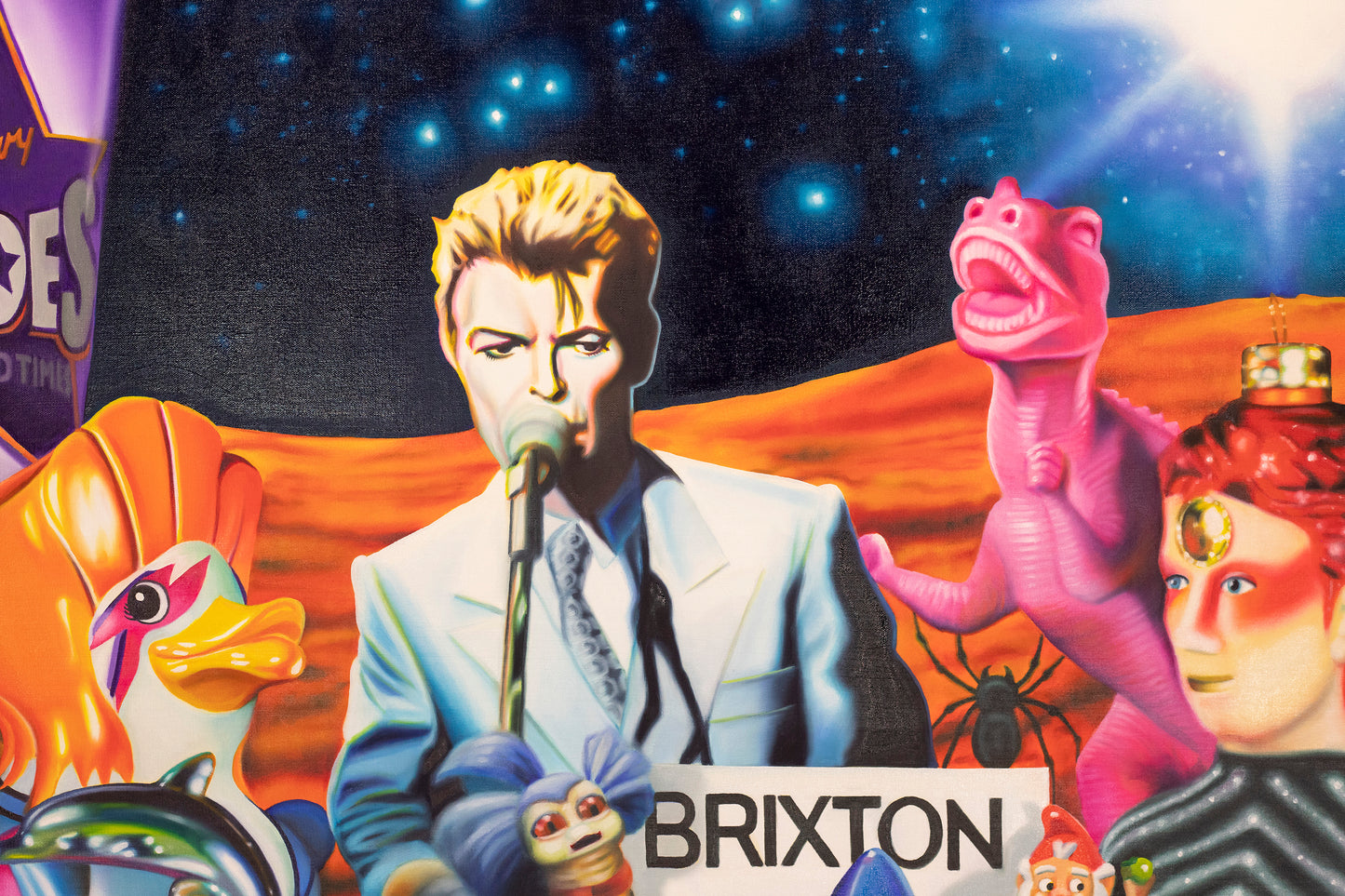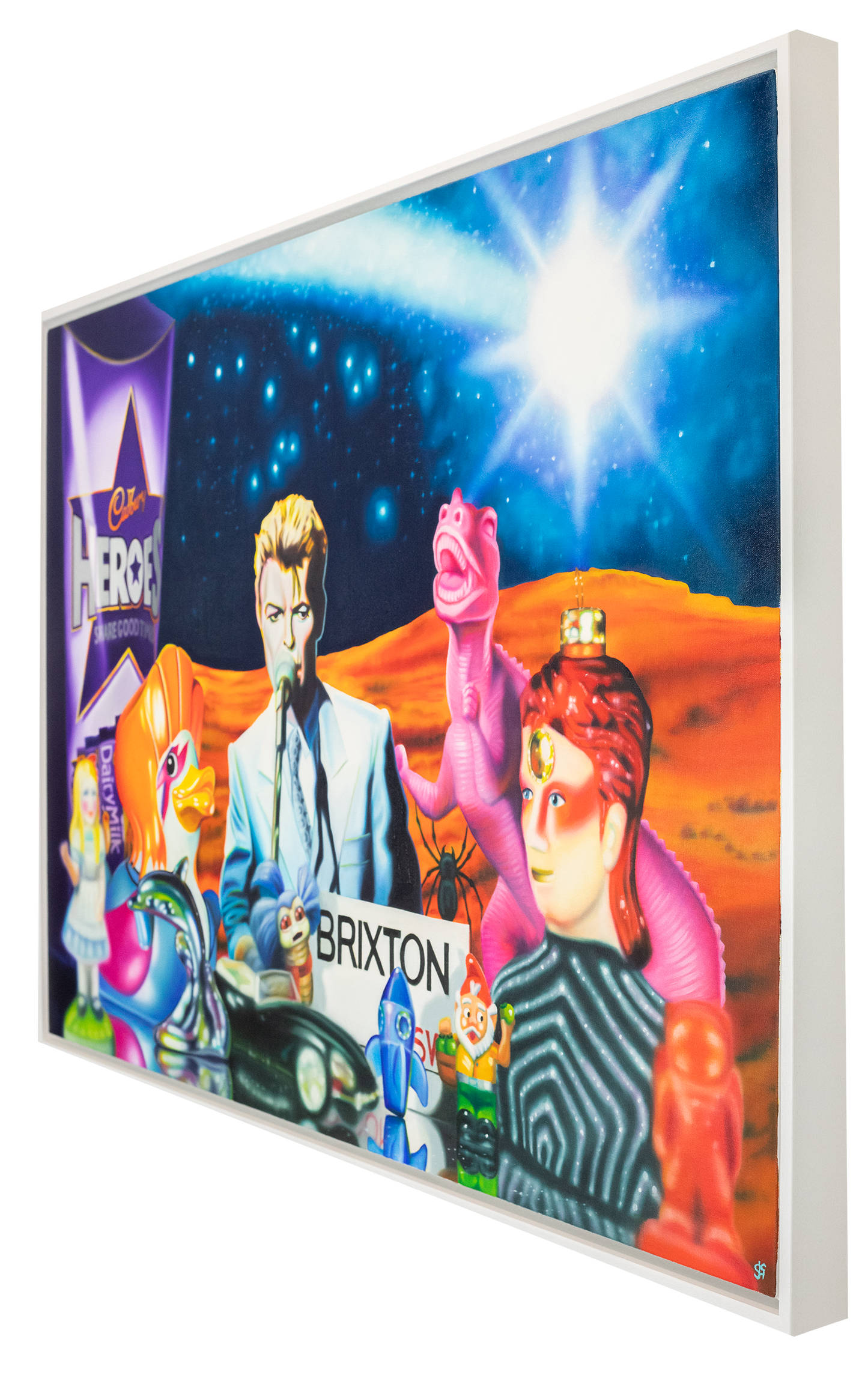 Shipping

FREE standard UK shipping!

Excludes some original paintings and shimmer prints. Click below to see all shipping details.

Shipping policy

Returns

30 day UK returns for standard items. See policy for more details

Refund policy